KnitBird
KnitBird is a software for designing knitting charts. It offers a variety of tools to make it easier for you to put your ideas in a chart, and then to make it real in your knitwear.
Symbols
KnitBird includes most of the common symbols used in knitting charts. We are always willing to extent our list of symbols and if you feel something essential is missing, please let us know.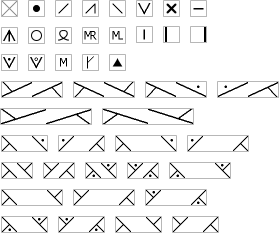 For Windows and Mac
PC or a Mac? It doesn't matter. KnitBird is built on the Adobe AIR platform and runs on both Windows and Mac computers. Draw stitches, of course.
Tool for creating dotted and dashed lines.
Move, rotate and flip selected parts of your chart.
Easily create repeated pattern from a selection.
Color picker for your stitches.
Add instructions for your chart and the colors and symbols that you use in your design.
Export chart as a JPEG image or a PDF file.
Import image files and convert them to a chart design.
Insert text into your chart.
Easily change colors in your chart.
Put bits of your design into a library. You can then later access them to use in other charts.
Make it yours
Buy the full version of KnitBird. You will get a product key which you will use to activate the trial version. You can use this key to install KnitBird six times.

Download and install
KnitBird can be downloaded as a trial version. The trial version can then be activated using a product key which you have to purchase.
To install KnitBird, you must ensure that Adobe AIR is installed.
Download KnitBird enclosed in a ZIP file (knitbird.zip) or download the AIR Installation Package directly (knitbird.air).
Extract the ZIP file.
Run the Installation Package (KnitBird.air) and follow the instruction.
Run KnitBird and activate it using your product key.
More information can be found here.
System requirements
Microsoft® Windows Server 2008, Windows 7, Windows 8.1 Classic or Windows 10
Mac OS X v10.7, and above
Internet connection (for product key activation and updates)
Read more on system requirements for Adobe AIR.
Adobe AIR Adobe AIR is a cross-platform runtime system which enables KnitBird to run on both Windows Mac computers.
Contact us
Do you have questions regarding KnitBird? Do you want our help using it or just want to say hi?
Send us a line to support@knitbird.com.
© Trilý Handelsbolag, Sweden