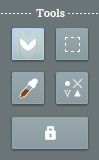 The drawing tools can be found at the left side of the application window. There are four tools visible:
The pen/stitch tool
The selection tool
The color picker
The symbols button.
Also, under the buttons is the Lock Symbols button.
Drawing
To draw, click on the first button with the stitch icon. Then you click on the chart to draw. You can hold the mouse down and move around to draw lines, shapes etc.
By right clicking on the chart you will erase the color/symbol on the stitches you right click on. If you click the Lock symbols button, the symbols will not be affected if you click right click, only the color.
Change colors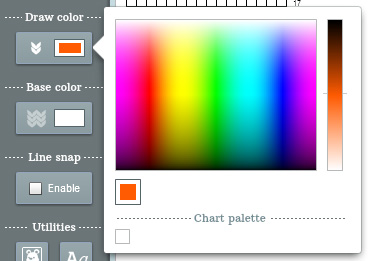 To change colors, click on the color buttons. The first button is used to select your drawing color and the second one changes the background color of your chart. In the color selector you can select a color from the color spectrum and on the right side you can adjust the brightness of the selected color. On the bottom of the color selector you will find a list of previously used colors in your chart.